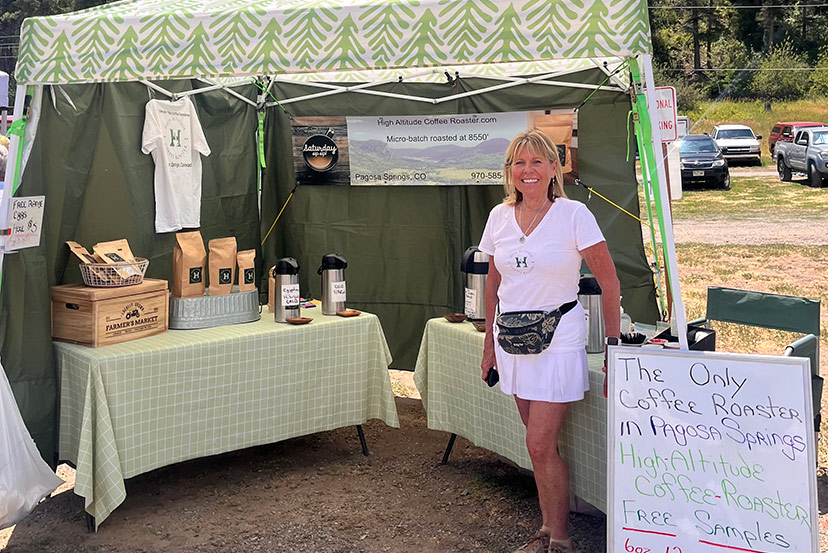 By Olivia Gilbert
Attention coffee enthusiasts! Make your way to the Pagosa Farmer's Market every Saturday until September 30, from 9am to 1pm, and treat yourself to the finest locally roasted coffee offered by our esteemed vendor: High Altitude Coffee Roaster.
Lorren Dawes, the passionate roaster, began her coffee journey as a hobby on Catalina Island, California, at sea level. Upon relocating to Colorado after retiring, she discovered the advantages of roasting at higher altitudes, which allowed for shorter roasting times at lower temperatures, resulting in remarkably rich and intense flavors.
Now, at 8500 feet, Lorren's coffee offers an incredible taste experience compared to sea-level roasts. Her love for coffee roasting sparked while publishing a popular magazine called Coffee House Digest, dedicated to the coffee house lifestyle, reaching over 100,000 small independent coffee shops. During that time, various vendors sent her coffee samples for reviews, prompting Lorren's curiosity about roasting and distributing her own coffee. She began roasting small batches on her balcony in Catalina, selling them to small shops and the exclusive Steve's Steak House.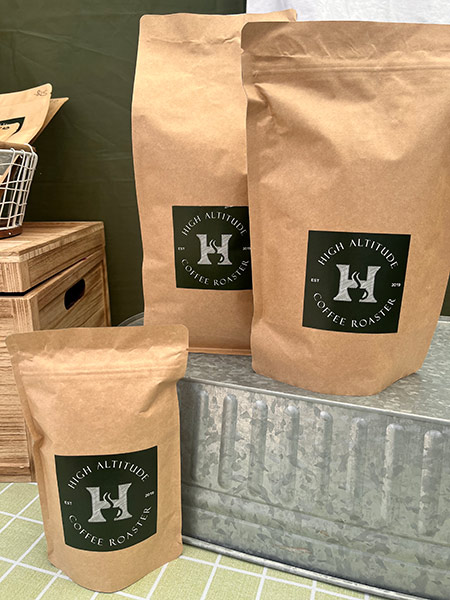 Lorren takes pride in sourcing her coffee from reputable importers, who are located in Wisconsin and who also make a practice of visiting the farms they source from. Her beans hail from different corners of the world, mainly from small, local farms situated along the coffee belt—the prime equatorial regions of the Earth, spanning between 25 degrees north and 30 degrees south of the equator. The countries include China, Africa, Papua New Guinea, Central, and South America.
Once she receives the green coffee beans, Lorren personally roasts them in a commercial kitchen in Pagosa Springs. What's more, she ensures that her coffee is processed without any harmful chemicals, emphasizing her commitment to natural goodness.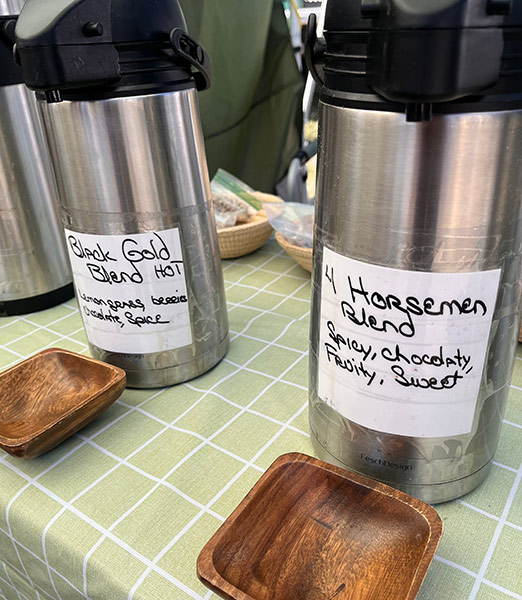 Now, Lorren is thrilled to introduce a captivating 2-hour coffee experience. The journey commences with a 10-minute film showcasing the coffee bean's journey from harvest to roasting, highlighting various processing methods. Guests then get to witness the small-scale roasting process and savor the delightful aroma.
The experience continues with a blind cupping session, where participants taste a range of coffee varieties and discuss their impressions. Finally, attendees get to explore four distinct brewing methods: moka pot, French press, pour-over, and siphon, observing how each technique influences the flavor profile. Interested folks should contact Lorren at her booth on Saturdays, about partaking in this experience.
If coffee doesn't captivate your taste buds, Lorren also offers fresh, free-range eggs straight from her very own chickens.
Don't miss out on this experience and this delightful opportunity to indulge in exceptional coffee or explore other farm-fresh delights!
We are thrilled to announce our continued offer to SNAP card users that will be ongoing until the market's closing day. It's as easy as can be – when you spend $20 using your SNAP card, you will also receive an additional FREE $20 in Double-Up Bucks from Nourish Colorado. This means you and your family can relish a delightful assortment of fresh vegetables, eggs, and baked goods without any extra cost.
Don't let this opportunity slip away! Visit us at the SOS booth between 9am and 1pm every Saturday until September 30 to take advantage of this great deal.
A special thank you to Southwest Organization for Sustainability (SOS), the town of Pagosa Springs and the Pagosa Tourism board for their support of the Market.
For more information call 970-264-5232 or email pagosafarmersmarket@gmail.com
Olivia Gilbert is the Farmer's Market coordinator.